Princeton South Asian Theatrics proudly presents our Spring 2015 play, "How to Get a Visa in 10 Days."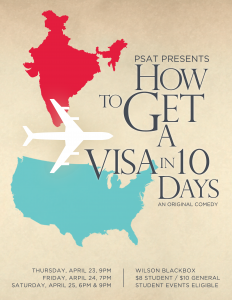 Anjali has everything going for her. She goes to a wonderful school, has the job offer she's been dreaming of, and is ready to begin her life in the real world when suddenly she finds herself trapped in a sticky situation.
How far will Anjali go to fulfill her childhood dreams? Come see "How to Get a Visa in 10 Days" to find out!
Written and directed by:
Neeraj Bajpayee '17 and Neamah Hussein '17
When: Thursday, April 23 at 9 PM
Friday, April 24 at 7 PM
Saturday, April 25 at 6 PM & 9 PM
Where: Wilson BlackBox
Tickets available now at Frist Box Office!
Students: $8
General: $10
Available for FREE using Student Events!